Cadence PCB EXPERT Suite
"Something really cool happens when you put it all together"
This changes everything...
Parallel Systems have put together a suite of tools to help the EXPERT get ahead...
Here is what the EXPERT suite contains
Available as a 1 year rental exclusively from Parallel Systems in the UK and Ireland
OrCAD Capture CIS is the most widely used schematic design solution for the creation and documentation of electrical circuits.
Capture CIS allows to place parts from your company's parts database
This ensures you are only pacing approved parts in your designs.
Configure it to include pricing information, part numbers, quantities, ROHSS compliant, Is it obsolete?, it is as big as your imagination! CIS also allows you to easily create BOM variants.
Cadence PCB Designer Professional
Cadence PCB Designer Professional is a scalable PCB design solution that delivers advanced capabilities and highly integrated flows.
Using the Cadence Allegro PCB engine, the powerful and tightly integrated PCB design technologies include librarian tools, PCB editing, push and shove routing, Constraint Manager, signal integrity, autorouting and design re-use
Providing both pre-route and post-route signal integrity analysis
Cadence SigXplorer can be used for "what if" scenarios. An incredible toolset that also allows the use of "eye masks" to line up the curves and check operability before you build the boards.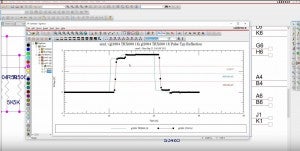 Please watch the SigXplorer overview demo video here


Voted 5 Star Rating
Parallel Systems rates the EXPERT suite the best value for money
Enquire for Pricing Now
Call UK   01344 203 244
or email sales@orcad.co.uk