Personalize, connect, design
Every engineer is operating at such variable scales of complexity these days, your design interface should not be part of that complexity. OrCAD X introduces personalization and flexibility to the UI along with increased visibility, automation, and cloud connectivity, allowing you to have clear focus on what matters… designing.
Comfort at every stage
The new OrCAD X is built with an optimal layout environment, tested rigorously to improve adoption, workflow, visibility, and to reduce unnecessary mouse travel and clicks. Minimize on-screen clutter and maximize your available screen real-estate, automate repetitive tasks, and complete your PCB design faster than ever.
Hybrid Cloud Flexibility
We have expanded the core of OrCAD X to include Allegro technology and our OnCloud structure. Cloud-enabled design means collaborative and intuitive; data management, project management, library management, and part creation. Brought to you through unified storage and access.
Watch the "top ten things you can do with OrCAD X" video interview and demo here
1:02   Circuit Replicate - Design Reuse OrCAD X
2:28   Via Arrays OrCAD X
3:24   New User Interface OrCAD X
7:02   Design Review Markup OrCAD X
10:20   Super Fast 3D engine OrCAD X
12:35   3D Flexi OrCAD X
15:10   3D DRC Design Rule Check OrCAD X
17:24   Dynamic Shapes OrCAD X
20:10   Live Doc OrCAD X
24:48   X AI Artificial intelligence OrCAD X
26:38   DRC Browsing OrCAD X
28:40   Export to Manufacturing OrCAD X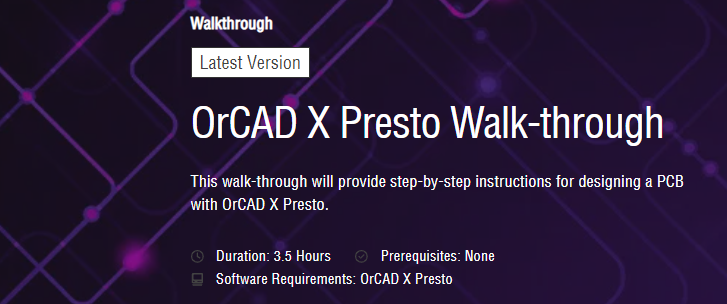 Navigate the OrCAD X Presto design environment
Configure a board outline and stackup
Place components through multiple methods
Add copper planes and pours
Configure constraints
Route a design, including fanouts and vias
Analyze the design for errors with design rule checking
Analyze the design in 3D
Quickly create manufacturing documentation
Export a manufacturing package
Efficiently collaborate with design review and markup
In this walk-through, you will learn the fundamentals of OrCAD X Presto by creating a PCB design. OrCAD X Presto is a new PCB layout environment designed to improve efficiency and streamline your PCB design process. Throughout this walk-through you will design a board and learn the necessary steps to efficiently complete a PCB design in OrCAD X Presto. This walk-through is comprised of video demonstrations, step-by-step instructions, and quizzes for you to obtain a comprehensive knowledge of designing with OrCAD X Presto.