We are the Cadence channel partner for the UK and Ireland providing Cadence OrCAD and Cadence Allegro software. We also provide classroom and onsite training courses.
Cadence software is used by the world leading electronics companies to design Integrated Circuits, Packages and PCB's. A few examples are Apple, Intel, Samsung, Amazon, ARM, NVIDIA, AMD, IBM, HP, Texas Instruments, Broadcom, Google, Microsoft, Facebook, Sony, Raspberry Pi and Fujitsu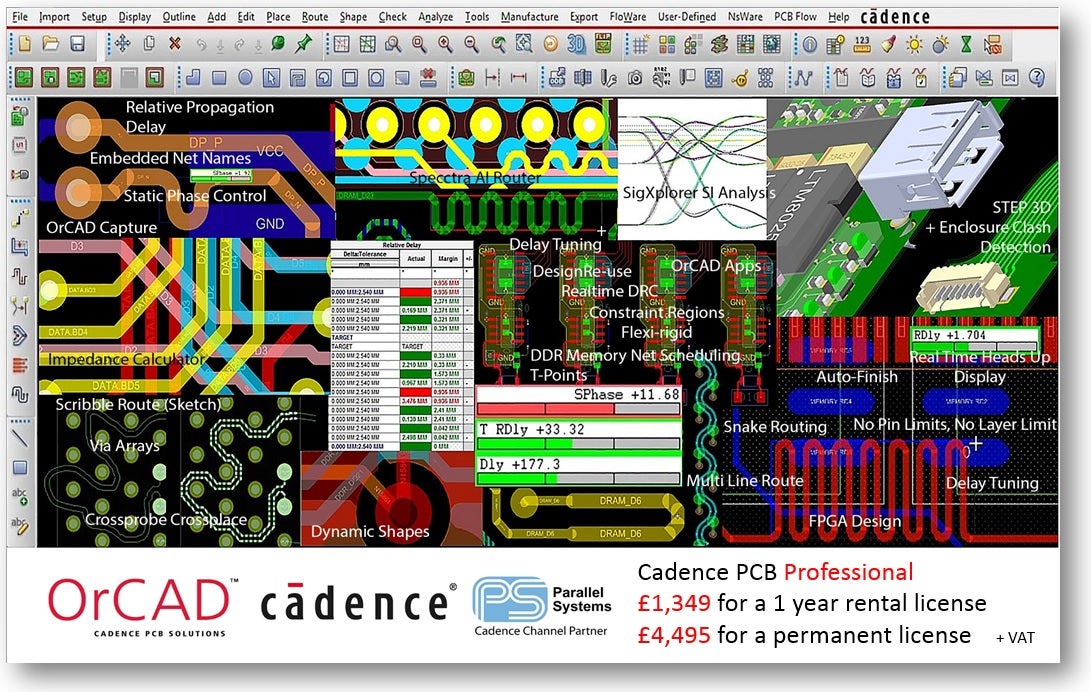 Cadence PCB Suites - A price point for everyone
The same PCB engine is found in both the Allegro and OrCAD branded tools. This means that Cadence has the powerful PCB Editor at a price point for everyone.
The Cadence PCB software is found in 4 main levels (Lite, Standard, Professional and Designer) with the ability to add performance options for short periods if you need to meet imposing deadlines. Lite is free to use. All the other levels enjoy No Pin Limits and No Layer Limits and No Design Size Limits with a native file format throughout the whole range.
All of the Cadence PCB suites include 3D STEP import/export, Push and Shove routing, OrCAD Capture, 12 months maintenance, Intelligent PDF, Crossprobe/Crossplace, OrCAD Apps, free online training, Constraint Manager, Multiline Routing, over 200 free training videos, Online DRC and lots more. Compare all the levels HERE